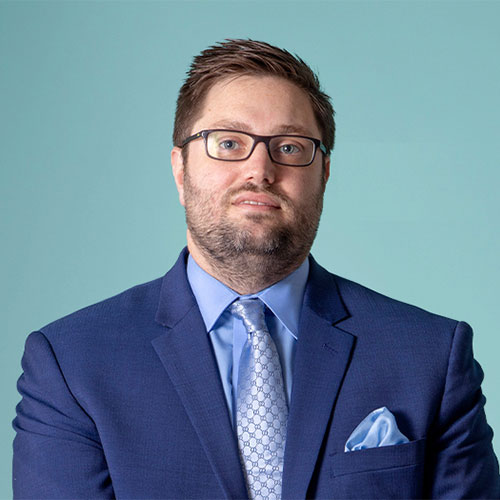 Dennis J. Pfisterer (Jr.), MD
Specializes in General Orthopedics
Dennis J. Pfisterer (Jr.) is a board certified orthopedic surgeon specializing in all areas of orthopedics. He focuses on treatment of knees, hips, and shoulders, but also performs surgery on the hand, elbow, foot and ankle. He is pleased to offer patient's a multitude of nonsurgical and surgical treatment options including many new and innovative techniques, such as arthroscopic and endoscopic surgery, minimally invasive surgery, and robotic joint replacement surgery.
He grew up in Bergen County and graduated from Ramsey High School in three years. He received a Bachelor's Degree in Economics from The College of the Holy Cross, in Worcester, Massachusetts. He went on to complete his medical training at the Lake Erie College of Osteopathic Medicine. Following medical school, Dr. Pfisterer performed his orthopedic residency at WellSpan York Hospital, a busy level one trauma center in south-central Pennsylvania, as well as Sinai Hospital and University of Maryland Shock Trauma Center in Baltimore, Maryland.
He studied with some of the most well-known and best trained surgeons in the country, including doctors from Harvard, Duke, Johns Hopkins, Mayo Clinic, Tampa General, and Harborview. He has been a contributing author to many scientific publications and has presented his work at national orthopedic meetings. After training, he decided to return to New Jersey with his family and took over the orthopedic practice of his father, Dr. Pfisterer (Sr.), who had been serving the local community for over thirty years.
While in Pennsylvania, Dr. Pfisterer developed a strong passion for orthopedic sports medicine. He loves attending sporting events and treating athletes at all levels of competition. He helped the team doctors with physical examinations and surgical treatment of athletes for the York Revolutions, an independent league baseball organization. Dr. Pfisterer continued this calling upon moving back to New Jersey. He is currently the team orthopedic surgeon for Bergen Catholic High School in Oradell and Farleigh Dickinson University in Teaneck.
Most importantly, Dr. Pfisterer also has a love for teaching. Each year he returns to his training program to assist in the selection process of the new orthopedic residents. Additionally, he helps train the orthopedic residents in the Rutgers/JCMC Orthopedic Residency Program, as well as the podiatric residents from University Hospital in Newark and Palisades Medical Center in North Bergen.
Dr. Pfisterer (Jr.) met his wife, Edel, a fellow New Jersey native, at The College of the Holy Cross. They currently still reside in Bergen County, with their four young children, Norah, Seamus, Maeve and Ailish. He is an avid car and sports enthusiast, rooting for the Dallas Cowboys, New Jersey Devils, and New York Yankees.